Ventilated and separated structure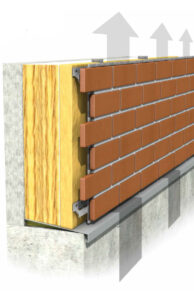 Stofix brick slip cladding is a ventilated, separated structure. The brick slip panel is mounted onto the rails of the Stofix system which leaves a wall-wide cavity between the insulation or the loadbearing wall. A separated structure prevents the forces from the structural movement of the building to impact the brick slip cladding. It also remains dry which extends the functional life of the product. Well-engineered cavity structure enables functional water flow direction even in extreme conditions.
Our brick slip system can be fixed to any load bearing structure which can take the load of approx. 40kg/m2 and the rails of the mounting system can be mounted directly to timber, concrete and steel.