Box Makers Yard, Avon St.
Box Makers Yard is a vibrant community of studio, 1, 2 and 3 bedroom apartments based on Avon St, Bristol. Box Makers Yard is right in the heart of Temple Quarter, Bristol's innovative new neighbourhood. With Temple Meads train station, riverside walks, community cafés and awesome independent shops just a short stroll away. The 12-storey building has a whole host of communal spaces and is approximately 7500sq metres.
THE PROJECT
A mixture of 1, 2 or 3 bedroom apartments, the apartments come in all shapes and sizes: with courtyard or city views, private balconies or terraces.
Stofix utilised mast climbers instead of traditional scaffolding which meant less manpower was required to keep project costs down.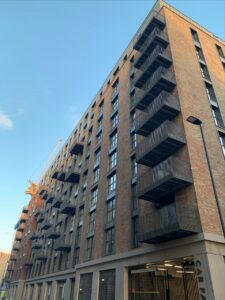 PROJECT CHALLENGES
The site is in the city centre, therefore, space was limited. Due to the fact Stofix was manufactured off-site meant that the limited space was not an issue for us. Our pre-fabricated brick slip cladding panels meant we could ensure product quality and consistency as well as making sure the project ran to schedule.
Covid-19 caused numerous issues, from the availability of building materials to labour shortages. There were also issues with high winds as the building site was closely situated to the Bristol Channel.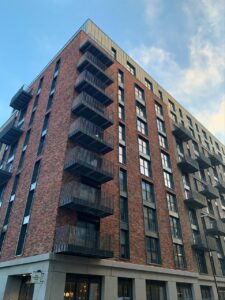 Find out more about the benefits of brick slip cladding.