West Bar Regeneration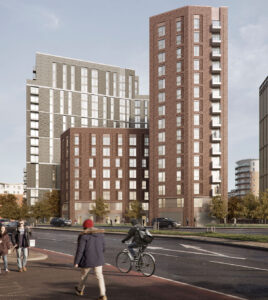 Stofix has been specified for a significant regeneration project in the heart of Sheffield – West Bar Business District. Working in partnership with main contractor Bowmer + Kirkland, Stofix ventilated brick slip cladding is currently being istalled by specialist installer, Caxton Façades.
A vision unveiled 
Made up of 368 build to rent apartments across two distinct towers of 15 and 19 storeys, this development project forms part of the £300M regeneration plan for West Bar Business District. When complete, the site will span over one million sq ft and will seamlessly integrate residential, commercial and leisure spaces, coupled with parking and open areas for the public.
Stofix Group's architectural innovation
Andy McKechnie, Stofix Group Technical Director, articulates, "Stofix collaboration with Bowmer + Kirkland and Caxton Façades on this regeneration project represents our commitment to architectural innovation. This venture represents more than construction – it's about forging a vibrant future for the community."
With Stofix work commencing in West Bar in August 2023, we are looking forward to playing our part in enhancing the local community through our Stofix products – attributing to both the aesthetic and functional excellence of this exciting regeneration project.
Find out more about Stofix's innovative brick slip solution.