Ark Education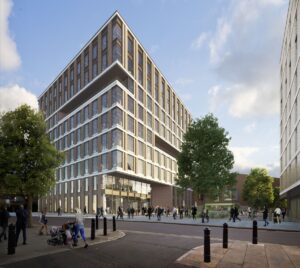 At Stofix, our belief in the transformative power of construction extends beyond physical spaces to the heart of communities. Our ongoing collaboration with esteemed main contractor, Bowmer + Kirkland and specialist Stofix installers, Caxton Façades, showcases this philosophy. Ark Education City is an exciting mixed-use development in White City, West London. We are thrilled that Stofix ventilated brick slip facade will play a role in this transformative project.
Shaping the future
Through this project, a dynamic education hub is taking shape, with Ark Swift Primary Academy, Harmony Nursery, and the Adult Community Education Centre, all undergoing a revamp. A dedicated youth zone catering to the younger generation is also being developed. This regeneration project also introduces 132 housing units, comprising 55 one-bedroom and 77 two-bedroom apartments, tailored to the needs of local residents and essential workers, including teachers. The transformation extends further with the creation of a public square and pedestrian and cycling routes aimed at reducing travel time and enhancing access to nearby transportation nodes.
Stofix products are being used in block C of this project – a 95,000 sq ft office building of the highest grade, complete with terraces, meeting spaces, and a crowning top-floor penthouse. This endeavour paves the way for a brighter, more interconnected community future.
The Stofix ventilated brick slip facade
Andy McKechnie, Group Technical Director of Stofix Group, commented, "The use of Stofix products in this exciting project is a great opportunity for us to contribute to the enrichment of the community. We're thrilled to be working alongside specialist Stofix installers, Caxton Façades and main contractor Bowmer + Kirkland, to support the completion of The Ark Education office building."
At Stofix, innovation is integral to what we do. Our revolutionary brick slip solution isn't just about aesthetics – it embodies durability, energy efficiency and sustainability. Read more about our industry leading ventilated brick slip facade system.