Kent Street Baths
Kent Street Baths in Birmingham city centre, is a project born through a partnership with main contractor Winvic Construction, the vision of Glen Howells Architects and the dedication of specialist Stofix installers, Caxton Facades. With an expected completion date by Q1 2024, Kent Street Baths promises to be the gold-standard of city living.
A tribute to Birmingham's heritage
Kent Street Baths stands on the heritage-rich site of Birmingham's first public baths. The project's primary objective was clear: create an inviting, sustainable, and functional living environment that promotes well-being.
Project challenges
Like with all central locations, logistics – including access and materials storage – posed significant challenges. Having had success with Stofix solutions previously, Glen Howells Architects chose to specify our leading system for this exciting project.
Consistent quality: Stofix offers consistent quality, contributing to a high quality and unified finish throughout.
Swift installation: Thanks to the expertise of Caxton Facades, Stofix was efficiently installed, reducing on-site construction time.
Efficiency and cost savings: Stofix's quick installation rate, at times exceeding 250 sqm a week on certain elevations, led to significant cost savings. It also reduced on-site time compared to traditional brickwork, coupled with a lower number of deliveries to the site, reducing environmental impact on site and in the surrounding areas.
Materials: Brick – Feldhaus Brick (various) and joints – bond: stretcher, soldier, stacked stretcher.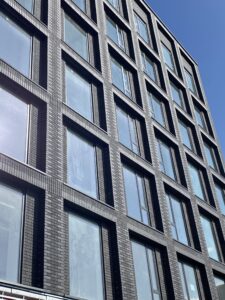 Size and scope
406 purpose-built apartments catering to diverse needs, from studio apartments to 3-bed duplexes.
Four blocks ranging in height from seven to 18 stories, each blending seamlessly with Birmingham's skyline.
Ground-floor amenities and commercial spaces, enhancing the vibrant urban atmosphere.
A semi-basement housing 86 vehicles, along with 9 dedicated electric parking spaces.
A landscaped central courtyard serving as a community hub, fostering social interaction.
Resident amenity spaces designed for modern comfort.
A project size encompassing an investment of £70-75 million.
Mark Jones, Multi-room Director, Winvic Construction Ltd, "With a passion for the latest technologies, we want to raise the bar for delivering sustainable buildings and assets for our clients, whilst leaving a lasting positive, social, environmental, and economic legacy. Stofix UK fits perfectly with this ethos. It allows us to select modern methods of construction, reduce on-site traffic which limits the impact on the communities in which we work, reduce our carbon footprint and guarantee speed of install avoiding costly delays, and is a proven cost-effective solution compared to traditional brickwork.
Current projects include Kent Street Baths, Holloway Head comprises 484 apartment build-to-rent scheme across four multi-storey blocks ranging from 8 to 14 storeys, and Nottingham's Crown Place is an impressive 426-bed student accommodation scheme for Crown Student Living. The scheme will comprise 196 studios and 230 cluster rooms across six storeys.
We work closely with the team at Stofix UK, they deliver on their promise and we look forward to an ongoing successful partnership".
Look out for further updates on Kent Street Baths – a project honouring Birmingham's heritage and showcasing innovation and efficiency in modern urban living.